Estate Planning, Probate, Guardianship, Real Estate and Commercial Litigation Attorney
Rita Pattni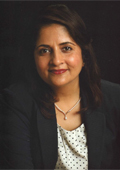 Areas of Concentration:
Estate Planning, Probate, Guardianship, Real Estate and Commercial Litigation
Licensed to Practice:
Licensed to practice law in the State of Texas.
Admitted to practice before the United States District Court for the Southern District of Texas.
Education:
Thurgood Marshall School of Law ( J.D. - 2013 - Magna Cum Laude)
University of Houston (B.A.A.S – 2010 - Summa Cum Laude)
Background:
Lone Star Legal Aid (2014-2015 ) Pro Bono Attorney
Law Office of Rita Pattni (2014-present)
Oppel & Goldberg, P.L.L.C. (2016-present)
Memberships:
State Bar of Texas
Houston Bar Association
Fort Bend Bar Association
Section Member : Real State, Probate and Trust Law-State Bar of Texas
Member of HBA Probate, Trusts and Estate Section
Committee Member: HBA Elder Law section
Diverse International background, multilingual in four languages including: English, Swahili, Gujarati, Hindi.
Certification:
Attorney Ad Litem
Mediator
Honors and Achievements:
Phi Theta Kappa – National Honor Society, University of Houston
Represented Tanzania at the World Conference on HIV/AIDS orphans and children, Nairobi, Kenya, 2002
Civic Activities:
Volunteer: Houston Volunteer Lawyers
Fort Bend Lawyers Care
HBA - Willathon
Speaker:
ABA Metro Bar Caucus on topic of mentoring programs
HBA - Wills

E-mail:
rpattni@ogs-law.com